Congresswoman Elise Stefanik's team knows how to run a fundraising program online. They're consistently one of the most powerful digital presences on the right, and when they see an opportunity they always jump on it. Since the Congresswoman joined WinRed they have raised $8.4 million through the platform and there is no end in sight.
Today we're breaking down a Stefanik email and WinRed page to show you how the pros are taking advantage of the newscycle and the platform. 

The Email
The Stefanik team saw an opportunity where a fellow member, newly elected Congresswoman Mariannette Meeks, was under attack and instantly rushed to capitalize. This isn't the first time the Elise team has helped Congresswoman Miller-Meeks. They actively used WinRed to raise money for her in the general election and also during the recount.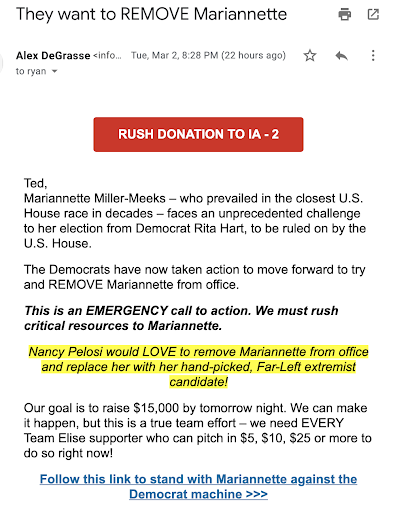 This email is great for a few reasons:
The subject line grabs your attention by being very direct about the problem.

There is a button to donate immediately at the top, making it very easy to get to the WinRed page.

By scanning the email you see a few things come to the forefront through creative use of highlighting and bolding: Emergency, Nancy Pelosi trying to remove Congresswoman Meeks, and a couple options to easily click and donate to fight back

The Page
After donors click through, they end up on this page: https://secure.winred.com/elisestefanik/pg-e-miller-meeks-split
There are four specific things you should pay attention to here:
They use widgets.

On this page there is a

donation stream

that shows donors who recently gave on the page as well as a

wiggle

on the $5 button that draws the donor's attention in and improves conversion rates.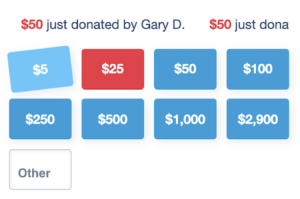 There is a Money Pledge option.

The team has an option to opt-in to a money pledge that allows donors to give an additional amount at a future date. Their example draws to attention the need to take back the house majority which increases the urgency of opting in to this pledge.