Video Pages are a unique new WinRed feature that allows campaigns to engage with supporters and raise money.
They are available for every organization on WinRed for no additional cost. It's the latest feature included with the standard 3.94% processing fee.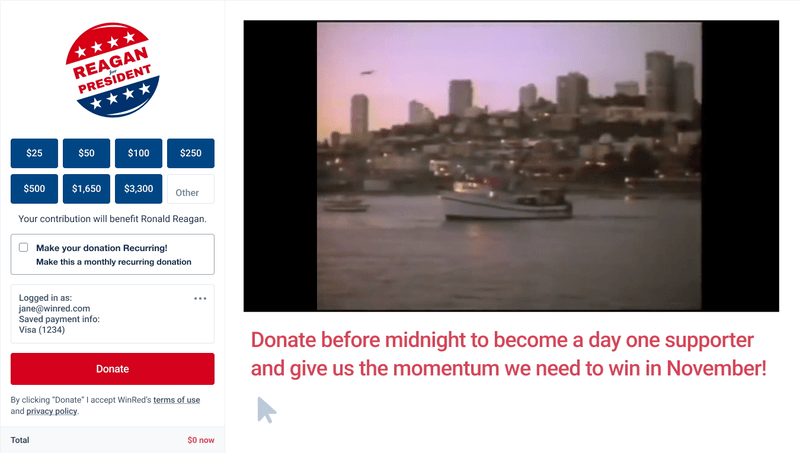 What are Video Pages?
Video Pages are special landing pages that allow donors to watch a video and give to a campaign simultaneously.
Embed posted videos or live streams from Rumble, YouTube, Vimeo, Twitter or Facebook.
When to Use Video Pages?
There are two main ways for campaigns to use Video Pages immediately:
Live stream debates, rallies, town halls, or other events to engage with supporters and raise money from those who can't attend in person.

Show donors the latest interviews, direct-to-camera videos, or advertisements and ask for donations to help continue funding the campaign's work.
Include WinRed's Unique Features
Video Pages are built so WinRed's unique fundraising features work without disrupting the video playback.
Slates:

Add other candidates to the page and split donations.
Upsells:

After an initial donation, ask donors to give again, support other campaigns, offer special merchandise, and more.
Money Pledges:

Ask the donor to opt in and give another gift on a future date.
Widgets:

Add countdown timers, donation button animations, and exit intent popups.
Zero-Touch Merchandise:

Offer custom products without buying in bulk or worrying about shipping.
Learn more about Video Pages here.

Are you a State, Local, or Federal campaign not on WinRed? Register here today!