WinRed's Zero-Touch E-Commerce program makes it easy to sell merchandise and open a virtual campaign store.
Zero-Touch = Zero-Risk.
We just released a few updates that can help take your merchandise fundraising to the next level.

1. NEW Way to Manage Merchandise
When you log-in to WinRed, you will notice a new tab on the top called Merchandise. This new area of the platform makes it easier than ever to manage your storefront and products.

Products
In this tab you can click into each separate product and then view the product name, description, and available options. You can also toggle whether to include the product in your storefront.
Orders
Here you are able to view all your orders including which have been fulfilled and those that failed. This tab allows you to filter to find specific orders and download the data to a spreadsheet.
Storefront Settings
The Storefront is a virtual campaign store used to promote merchandise and another method of optimizing small-dollar donations. This settings tab is where you can customize your storefront.
Read more about how to manage Merchandise on WinRed here.
Reminder: you must be logged in to view any support articles

2. NEW Products Available
We expanded WinRed's direct-to-garment catalog! These products are printed on-demand. This means no more buying merch in bulk, dealing with delivery, or customer service — only buy what your donors order and WinRed handles the rest.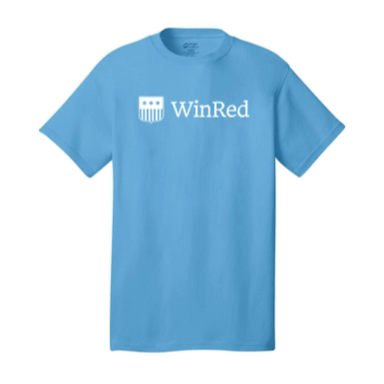 New shirts, polos, hats and more are available with an expanded color selection for certain products.
Most importantly — you can now sell Membership Cards directly through WinRed! Every single campaign and organization on WinRed should be offering membership cards through their digital fundraising program.
The New Hampshire GOP is leading the way with their membership card. Check it out here!
Check out the product catalog to see everything we have to offer

3. Use Upsells With Merchandise
If you are offering merchandise on a page, then you should absolutely be using an upsell to ask the donor to cover shipping fees.
The NRSC are pros at using this on their pages when they are offering merch, and the results speak for themselves. It is one of the best performing upsells on WinRed.
This is a conduit upsell that is mocked up and edited to look like a specific upsell for covering the postage costs.
Additionally, using Membership Cards on upsells is another excellent way to motivate donors and make them feel like they are part of the team.
If you have any questions about merch, please reach out to 
merch@winred.com.
Not using WinRed yet? Get signed up here!