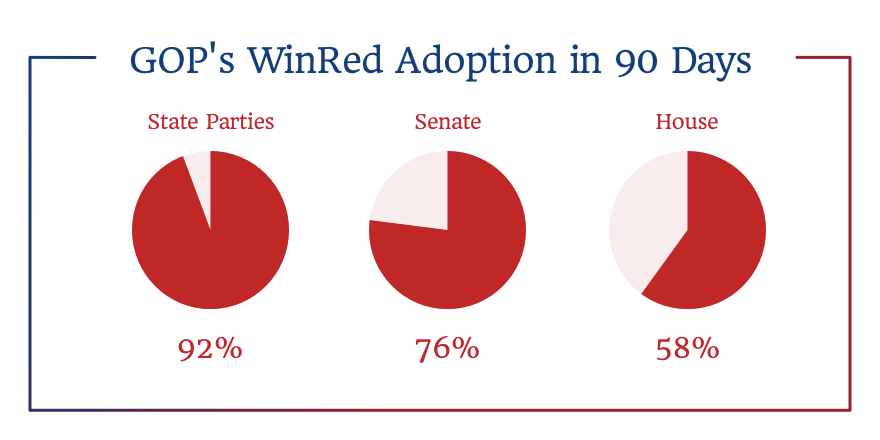 Three months ago, we launched WinRed with the goal of matching the capabilities of ActBlue which had a 15-year head start.
Due to the enthusiasm and hunger for a real solution on our side to the challenge faced by ActBlue, the vast majority of incumbent GOP campaigns and state parties have adopted WinRed in the first 90 days since launching. It's an incredible feat and has exceeded our expectations.
This puts WinRed on a path to match ActBlue's incumbent usage rate within 6 months of launching.
Additionally, WinRed already provides certain key features that ActBlue does not, like integrated petition and survey pages and a plug-and-play merchandise platform.
The first real test for WinRed came in early September when campaigns and national party committees were able to successfully nationalize a local House Special Election in North Carolina's 9th District. With WinRed in the mix, about 12,000 donations from all 50 states and 6 territories flooded in to help lift Republican Dan Bishop to victory and raise over $300,000.
With all the top races and incumbents now using WinRed, this is a model the party can replicate again and again in 2020.
Next up: Outside PACs and organizations will soon be granted access to WinRed, further extending the network effect and creative fundraising opportunities when everyone uses the same platform.
In the first 3 months:
Over 600 campaigns at every level have requested an account
92% of all State Parties have signed up
76% of the Senate Republican Caucus have signed up
58% of all House Republican incumbents have signed up
Ready to join WinRed and join the hundreds of campaigns and committees who have already made the switch?