All eyes are on Georgia right now with Senators Kelly Loeffler and David Perdue heading into runoff elections, and they need all the help they can get in order for the GOP to keep the Senate majority.
THE STRATEGY:
The GOP needs to rally behind these crucial races, and WinRed was built to help the GOP meet moments like this. If the whole GOP fundraising ecosystem rallies together, it can excel beyond the Democrats' capabilities with ActBlue.
You can raise money for yourself, stay active with your lists and audiences and in the process you will shine a national spotlight on a critical race. It's up to you to show your donors the big picture of winning these two races in order to keep the GOP's Senate majority.
WHAT YOU NEED TO DO:
Your campaign can make a critical impact in these races (while also raising money for yourself) by using these WinRed tools:
1. Create Split Pages
You can create a donation page in a matter of minutes that splits donations between you, Sen. Loeffler and Sen. Perdue. Any donation on that page is split three ways automatically.

2. Use Upsells
Upsells are one of the most powerful features on the WinRed platform and a great way to send even more help to Georgia. We recommend an upsell immediately after someone donates to you that sends funds to both runoff Senate races.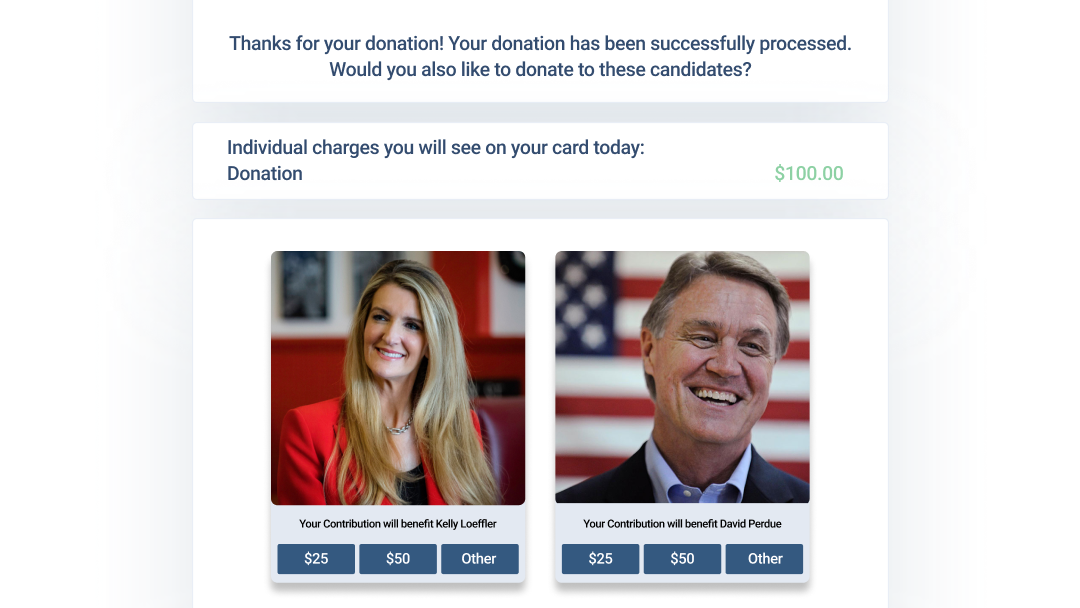 3. Communicate with your audiences daily.
Send a fundraising email and make social media posts every day. Make sure audiences have a link to click on. You can even use the news to send your donors updates and give them even more reason to give.
The election is on January 5th! Our team is on standby to help you get pages and upsells set up so you can help win Georgia immediately.
Login to your account and send us a chat to get started!