Today we're proud to report that Republicans raised 30% more on WinRed in the 1st Quarter of 2020 — nearly $130 million — than it did in its first two quarters combined.
Let us say that again. NEARLY $130 MILLION.
Here's what that growth looks like on WinRed vs ActBlue's historical numbers. Everyday we are working to make sure that there will never again be a Democrat advantage in small dollar fundraising.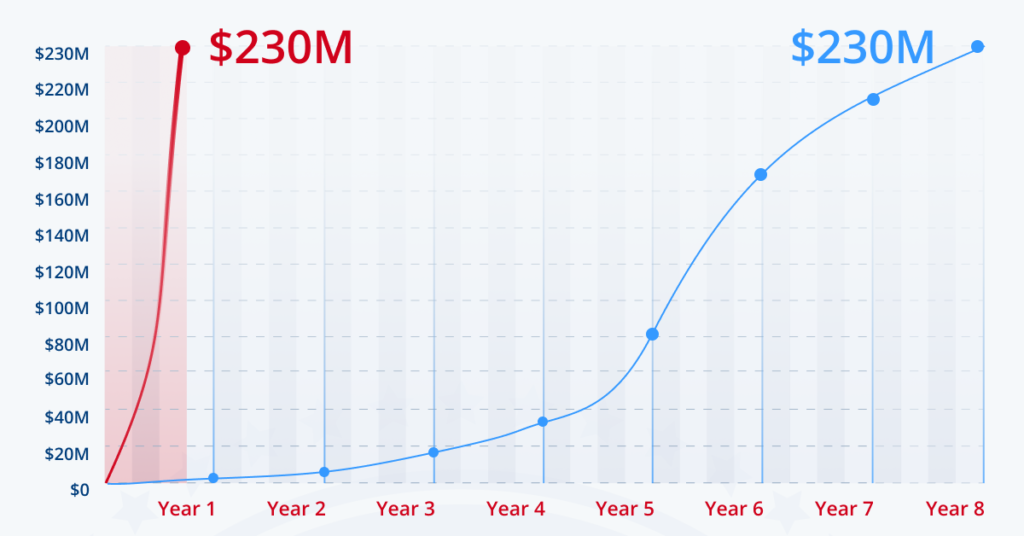 WinRed Q1 2020 Breakdown:
$129.6 million raised

1 million donors gave on average 3.2 times

Average donation: $39.83

787 campaigns actively using WinRed

$29 million of the $130 million total is monthly recurring

182,538 donors converted to volunteers
Key 1st Quarter Numbers Show WinRed Also Powering GOP Campaigns Politically
WinRed not only helps campaigns raise money — it increasingly helps campaigns politically. This quarter, we saw how key features of WinRed are powering Republican campaigns in ways no platform has before:
1) Volunteer Surge
In December 2019 we created a new Upsell: Become a Volunteer. This allows anyone who donates to a campaign to then opt-in to volunteer for that campaign. 2020's energy is perhaps most clearly on the GOP's side when considering this stat:
182,538 donors converted to volunteers for GOP campaigns in Q1.
2) Conduit Contributions
The top House and Senate races in 2020 also benefit from WinRed's conduit donation architecture. This allows big organizations like national party committees and the President to quickly and easily send small-dollar donors to other campaigns, raising huge sums for critical races that need the help:
Over $6.6 million raised for the top 2020 campaigns in Q1

This is a 77% increase vs. Q4 2019
3) Recurring Donation Spike
In the 1st Quarter, more than $29 million of the total $130 million raised came from recurring donations – where donors sign up for plans to make weekly or monthly contributions to the campaigns of their choice. This is a 118% increase over the previous quarter. Additionally, with the disruption to traditional fundraising in the last few weeks, recurring donations bring stability and resiliency to GOP campaigns' budgets.
WinRed's First 10 Months See Massive Adoption and Fundraising
Since launching 10 months ago, Republicans have now raised $230 million on the WinRed platform . For reference, it took ActBlue eight years to raise that much overall, and 12 years for them to have a $100 million quarter.
Quarter-By-Quarter Recap:
Q3 2019 (WinRed's First Full Quarter)
Q4 2019
Q1 2020