Three months ago, we launched WinRed with the goal of one day matching the capabilities of ActBlue, which has a 15-year head start.
As our first full quarter comes to a close this week, we're proud to say that WinRed is off to a very fast start, helping GOP candidates and committees raise more than $30 million on the platform over the past three months.
The $30 million raised on WinRed in the 3rd Quarter came from a total of more than 639,000 donors in all 50 states – with an average contribution of $46.03.
WinRed's First Full Quarter = ActBlue's First Three And A Half Years
Putting these results in context, WinRed has now raised more money in its first three months of existence than ActBlue raised in its first three and a half years.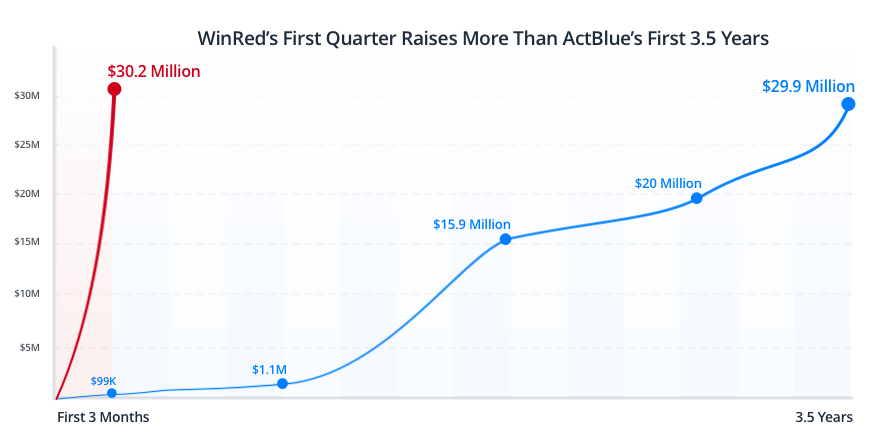 ActBlue hit the $30 million mark in December 2007 — three and a half years after its June 2004 founding. In fact, ActBlue only raised $99,000 in its first three months. In 90 days, WinRed has raised more than $30 million as it continues to onboard GOP campaigns and state parties from across the country.
Pelosi's Impeachment Inquiry Is Fundraising Boon For WinRed + GOP
Turning major news events into big-time fundraising numbers is a key goal of WinRed – and we had a super-charged example of that last week after Nancy Pelosi announced an impeachment inquiry against President Trump.
In the six days since Pelosi's impeachment announcement, WinRed raised over $11 million, including hundreds of thousands of dollars to House GOP "nominee funds" — funds raised and ready for Republican challengers to targeted pro-impeachment Democrats like MI-08 Rep. Elissa Slotkin from Michigan. As Politico reported last week:
Republicans had long lacked a centralized apparatus that allowed them to engage in the kind of digital fundraising they did on Tuesday. The appeal allowed givers to evenly split their donations — a process known as conduit fundraising — to Trump and Slotkin's GOP opponent with a click of the mouse.
WinRed Embraced By State Parties + Campaigns, Merch Innovation Continues
In just 90 days, WinRed has become the dominant online fundraising platform on the right.
WinRed is on a path to match ActBlue's incumbent usage rate within six months of launching – an important benchmark for the platform's future success.
Since June, over 600 campaigns have requested an account, and WinRed has been adopted by 92% of Republican State Parties, 76% of GOP Senators, and just recently hit 60% of GOP House Members.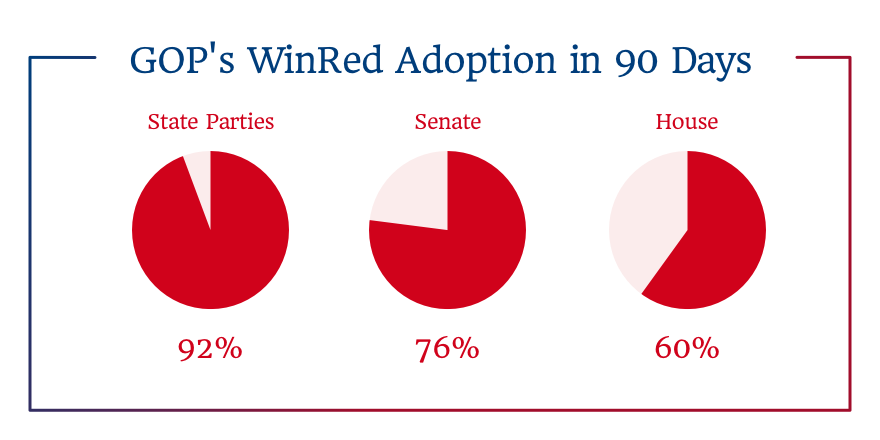 WinRed also provides key features that ActBlue does not: like integrated petition and survey pages and a zero-touch plug-and-play merchandise platform. These are important tools that candidates are already using to diversify their small-dollar outreach and expand their donor bases.
A prime example of the impact of WinRed's merch platform is the "Impeach This" T-shirt designed by the Nevada Republican Party, which is now being sold by 22 state parties across the country through WinRed. This is WinRed in action — incentivizing creative and aggressive online fundraising across the GOP ecosystem: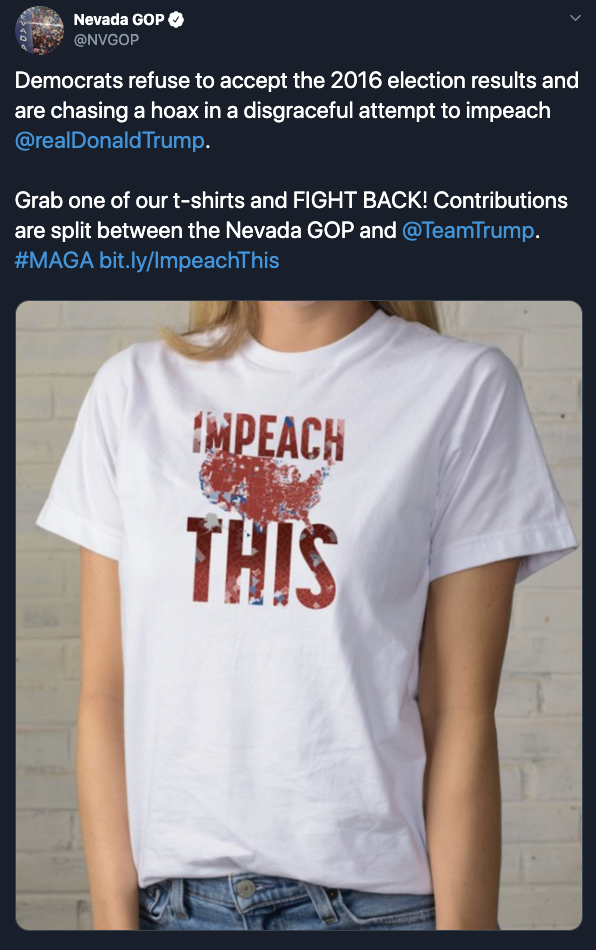 Our next focus will be to sign up outside PACs and organizations, further extending the network effects and creative fundraising opportunities that come when everyone uses the same platform.
WinRed's first 90 days have been a success, and we're looking forward to more achievements and innovations to come.