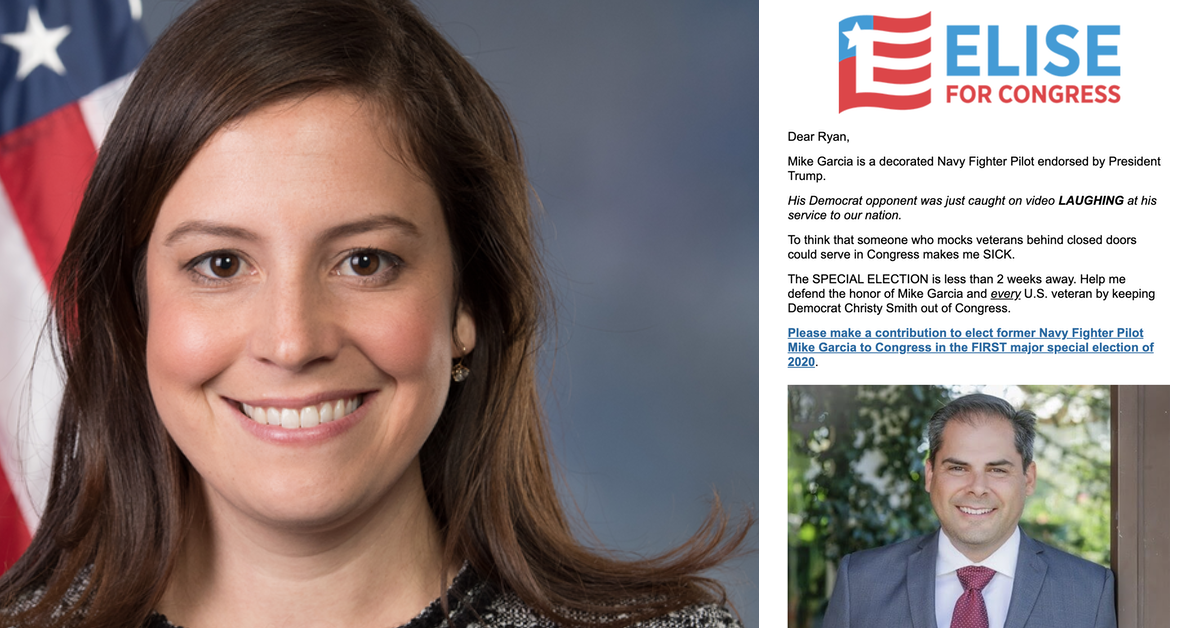 This past fall, Elise Stefanik (NY21) went from a rising GOP star to center-spotlight with her defense of President Trump in impeachment hearings.

"This young woman from upstate New York, she has become a star." – President Trump
This helped Stefanik pull in massive fundraising numbers in the final months of 2019.
"Stefanik's campaign released preliminary fourth-quarter campaign finance figures. She has nearly $3.4 million cash on hand entering 2020. There were nearly 50,000 first-time donors to her campaign and the average donation was $50." – Auburn Pub
Now in 2020, she's helping other GOP races using WinRed's Conduit feature. And because she's doing that, hundreds of her supporters took the opportunity to help Garcia in his special election in California-25.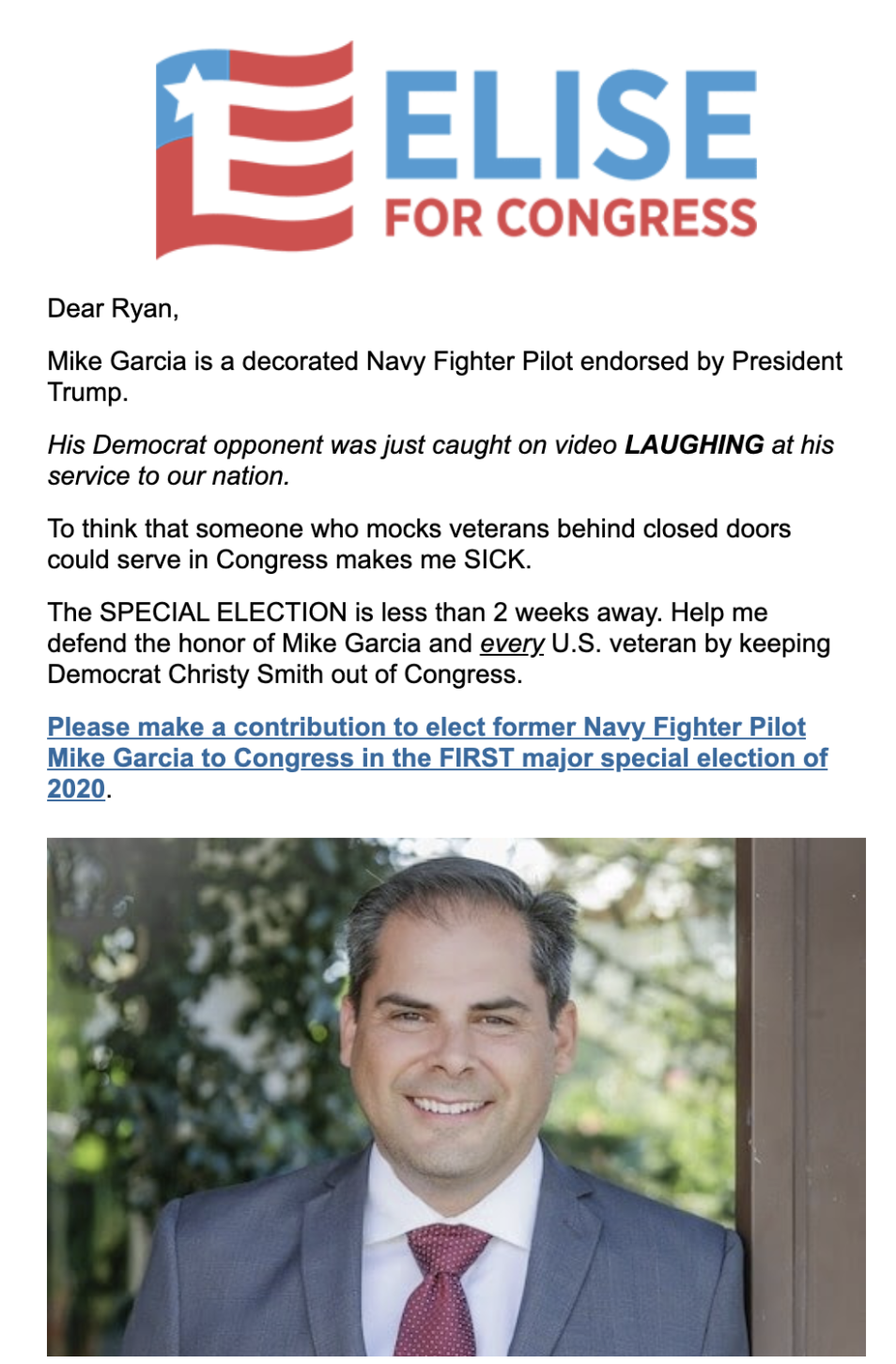 Dan Crenshaw is doing it also – blasting an email to his national list on Saturday afternoon, May 9 that allows donors to send money to himself and Mike Garcia in #CA25: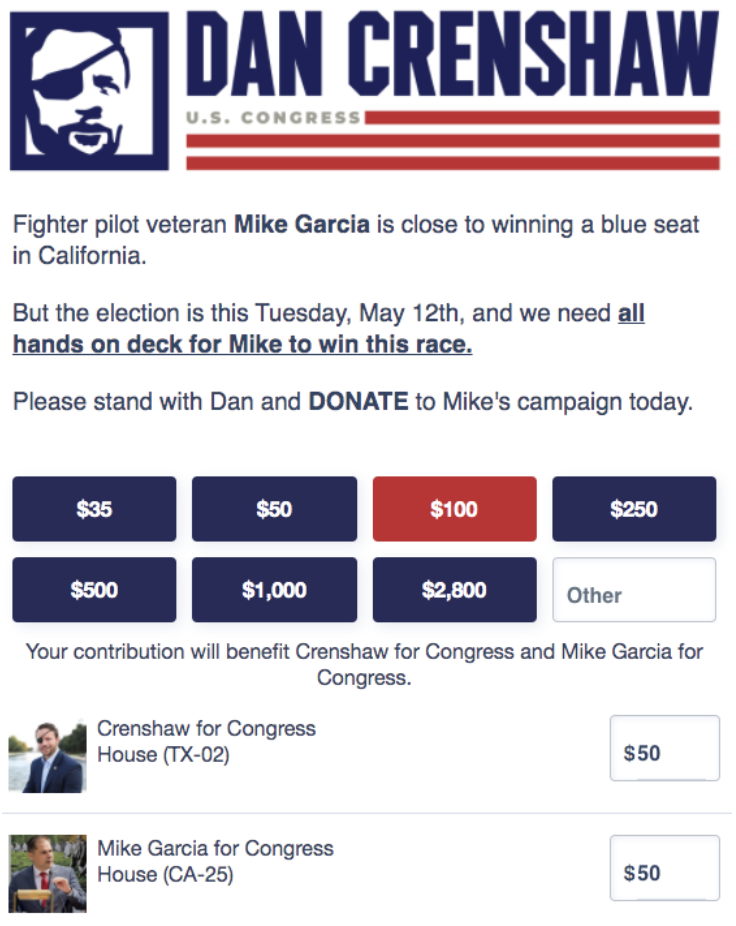 This is easily done in WinRed in 3-steps:
1. Make a fundraising page
2. Add candidates
3. Blast that page out to every audience you have: Email, SMS, and social. (pro-tip: More eyeballs = more money raised!)
Why this is important:
The GOP is stronger when it works together. WinRed makes it easy to shine a national spotlight on a local race. Elise Stefanik and Dan Crenshaw can send donors to support Mike Garcia across the country in a special election in California as easily as ordering an Uber.
We saw this same strategy propel Dan Bishop to victory in his NC-09 special election last fall.
"North Carolina's 9th was the first test case for WinRed, and it was a total success, as Bishop was able to capitalize on President Trump's army of small-dollar donors to raise a large amount of money in a very short time span."

– Rep. Tom Emmer, Why the GOP victory in North Carolina spells disaster for Democrats in 2020