WinRed's Zero-Touch merchandise setup means you pick your products, upload your designs, and start selling merch. There's no need to buy in bulk, and WinRed's partners handle product creation, fulfillment, and shipping.
Thousands of campaigns across the country used our Zero-Touch merch program to raise millions last cycle.
We interviewed State Representative Shelly Boshart Davis' campaign to find out how they used merchandise to connect with supporters, build relationships with donors, and raise more money.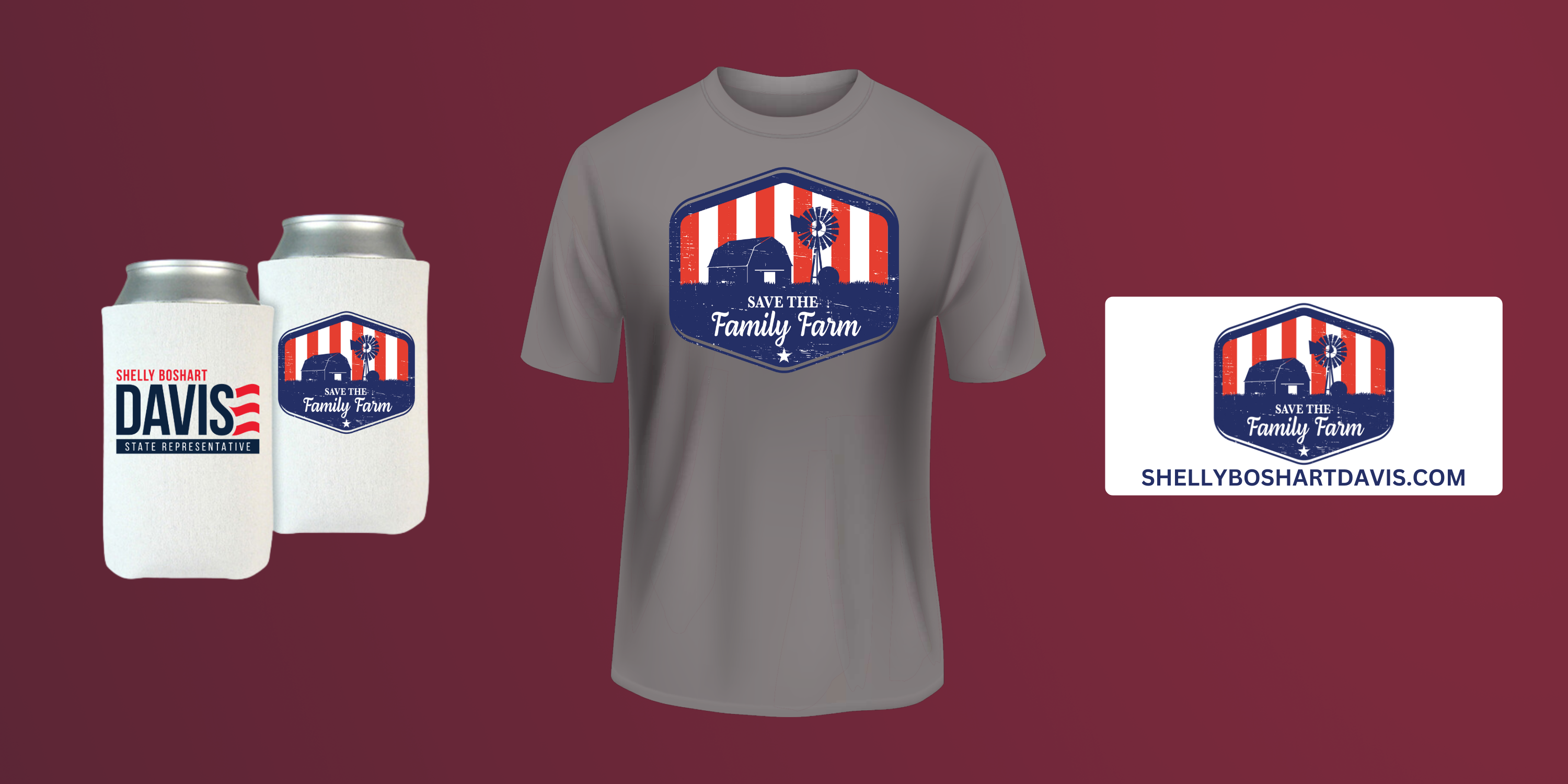 The Majority Strategies team even received a Reed Award for Best Campaign Merchandise – Republican for their work on her "Save the Family Farm" campaign.
This is how they did it 👇
1. Where did the "Save the Farm" idea originate from?
"Shelly Boshart Davis represents rural Oregon House District 15. Shelly Boshart Davis is rooted in Linn County and Oregon's agriculture community. She grew up on a family farm in the Tangent and Shedd area. Shelly has spent the last twelve years alongside her parents and siblings, helping grow the family farm and trucking business. Today, the farm has a global reach, shipping Oregon agricultural products to farmers as far as Japan and South Korea.
Coming up with the 'Save the Family Farm' design was a no-brainer considering Shelly's involvement in the agricultural community. She has witnessed firsthand the hardships of operating a farm while following the regulations of governmental overreach. Natural resources have long been a primary economic and social pillar to House District 15. We wanted to offer this merchandise to bridge the gap between urban and rural Oregon."
Bottom Line: Create custom merch that connects to your community and embodies your candidate's platform.
Learn how to create merch in the product catalog here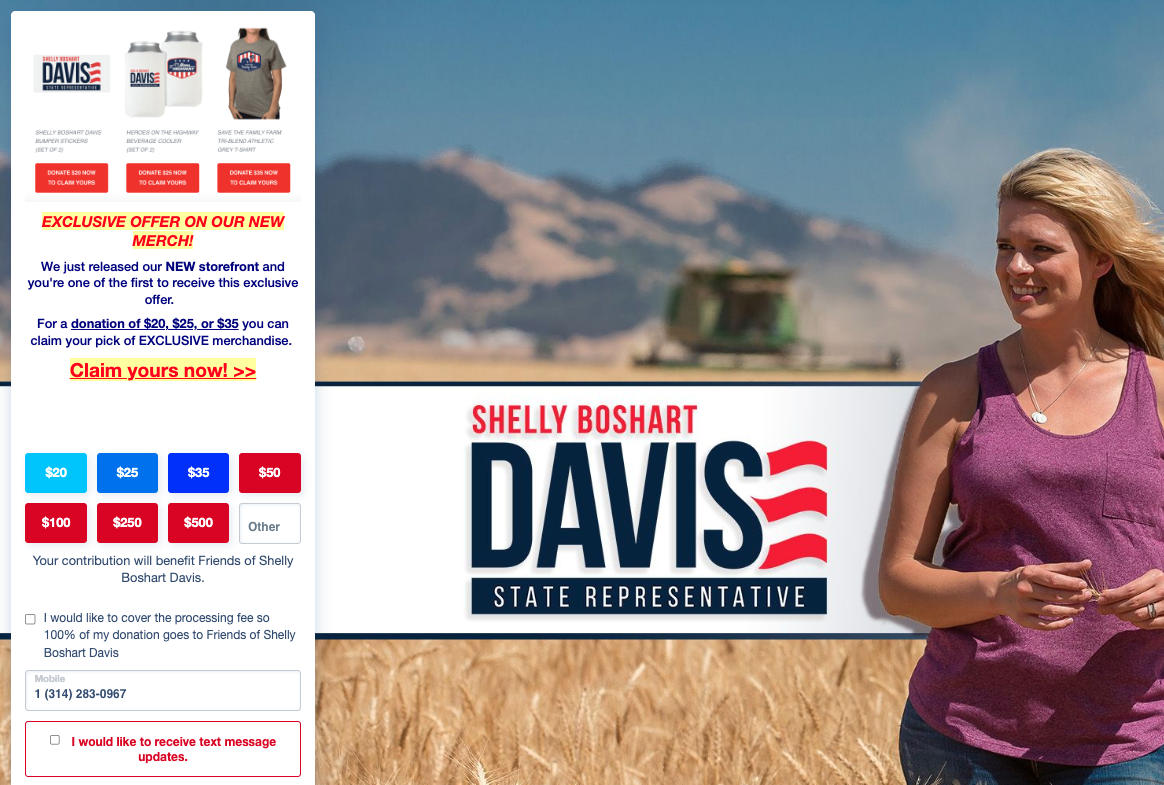 2. Why should state-level campaigns use WinRed's Zero-Touch merchandise?
"State-level campaigns should use WinRed's Zero-Touch merchandise because it is a vital fundraising tool and helps increase your campaign's visibility.
Merchandise is a guaranteed way to help your campaign raise money and expand your donor housefile. Donors love to receive something in exchange for their contribution, merchandise helps us meet that demand. Receiving a piece of merchandise, your supporters will definitely feel like they are part of your campaign.
WinRed makes it easy to submit designs, set up a storefront, and fulfill orders. They truly take all of the grunt work out of your hands. Merchandise can also introduce a donor to the list and be a good way to encourage them to make their first donation. Additionally, it helps nurture a real relationship with the donor which in politics is severely lacking."
How It Works: Upload your design, and promote your merch. WinRed and our trusted partners handle product creation, fulfillment, and shipping.
Learn how to raise more on Storefronts by adding Upsells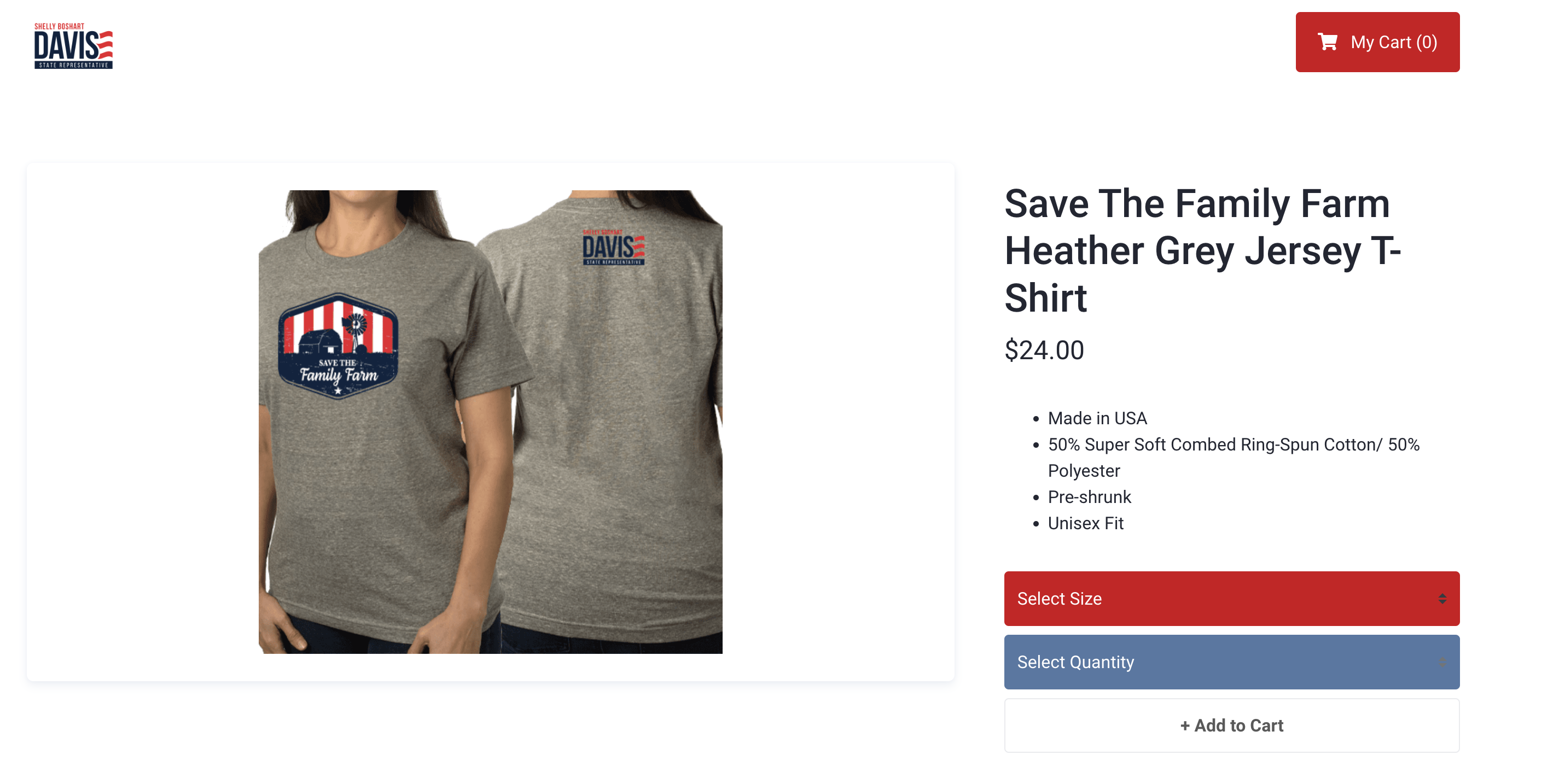 3. How did you offer and promote the merchandise?
"We offered and promoted the merchandise through email and social media campaigns. We directed our leads to the storefront page and donation pages by using WinRed's merchandise campaign feature.
We were able to expand our reach by communicating with both email housefile and social media following to promote this merchandise."
Takeaway: Promote your merch via email and social media to send traffic to your merch donation pages and storefront.
Learn the five keys to writing a great fundraising email here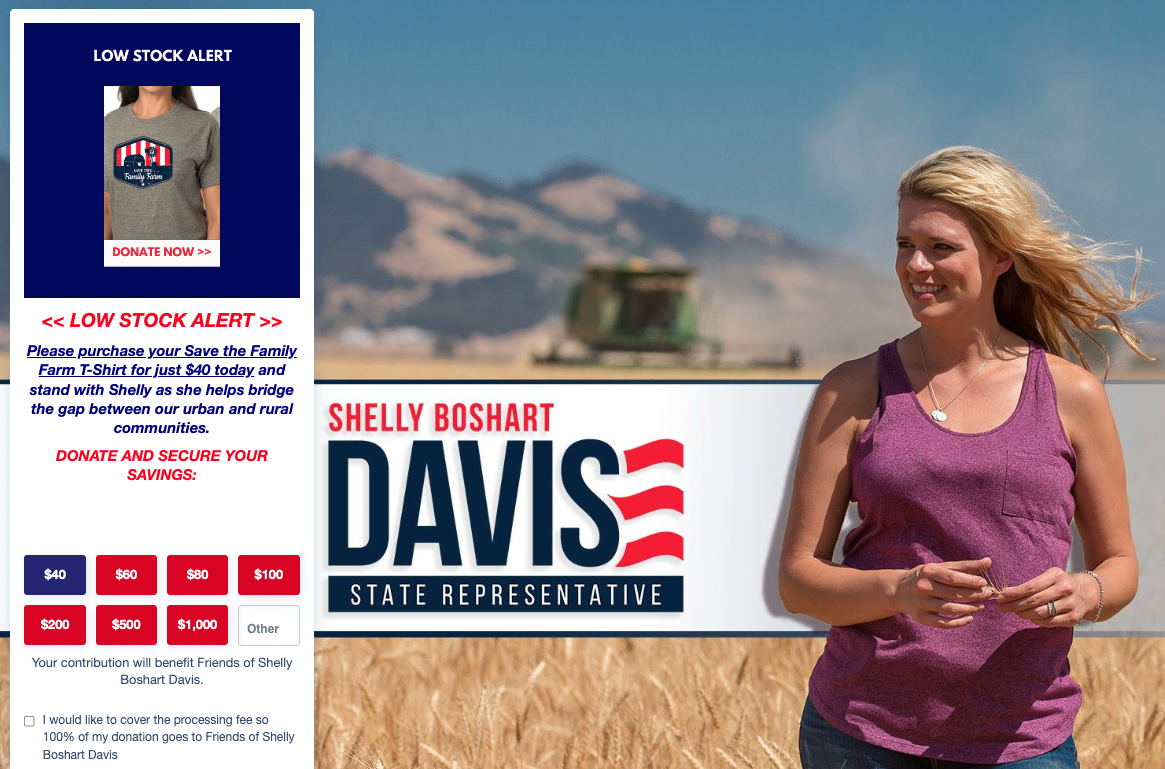 4. What other features on WinRed helped your campaign scale its fundraising program?
"WinRed petition pages helped us scale our fundraising program for this campaign.
We were able to stay in contact with our housefile through petition pages during the legislative session and our fundraising blackout period. This helped us gain new leads to communicate with when that restriction was lifted.
Additionally, during our fundraising period we were able to redirect leads to a donation page after submitting a response to a petition. This gave us every chance to ask a lead for a donation.
We also utilized slate pages and upsells with other campaigns. During the 2022 cycle, Shelly Boshart Davis was the campaign chair for Oregon gubernatorial candidate Christine Drazan. We worked closely with the Drazan campaign on email sends and offered a slate on the donation page and an upsell ask after a donation was made.
Recurring asks were another great way we expanded our fundraising program. One way that we encouraged recurring donors was with WinRed's recurring callout feature. We customized this to make sure folks were seeing the value of their recurring donation, instead of just being asked "want to make this a monthly donation?"
Key Insight: Combine top WinRed features like Petitions, Slates, Upsells, Money Pledges, and Widgets to take your fundraising program to the next level.
Learn about the four things every WinRed page needs here
WinRed's Zero-Touch Merch program makes it easy to offer products with zero risk. Create your custom products now.
Are you a State, Local, or Federal campaign not on WinRed? Register today!